Game Maker Creations
Twelfth week
Art takes life this week for our newest dive into the worlds of our creators. The creations of this week are perfect for this month of October and give the right entrancing and spooky vibes. Read on… if you dare
A Week Two Creators
Once again we have a team of creators that are joining forces to build amazing content for our enjoyment. Hack the Tao is created by the Hackatao's Crew: @Hackatao @SerenaTabacchi @SandioVoxel @voxelrem and @fiia.fia.fia. You can check
Hack the Tao is the first The Sandbox game designed by the Italian artist duo Hackatao.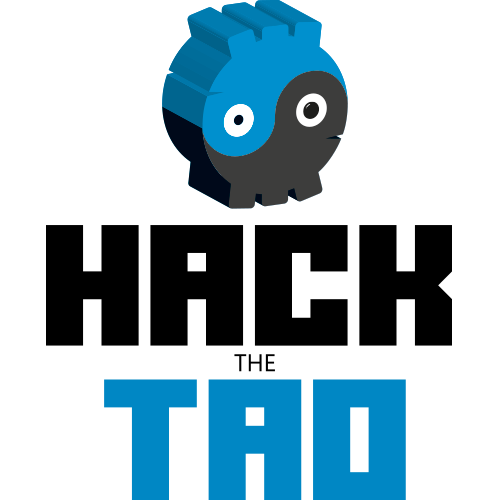 The game is inspired by the hero's journey narrative developed by Joseph Campbell's The Hero with a Thousand Faces.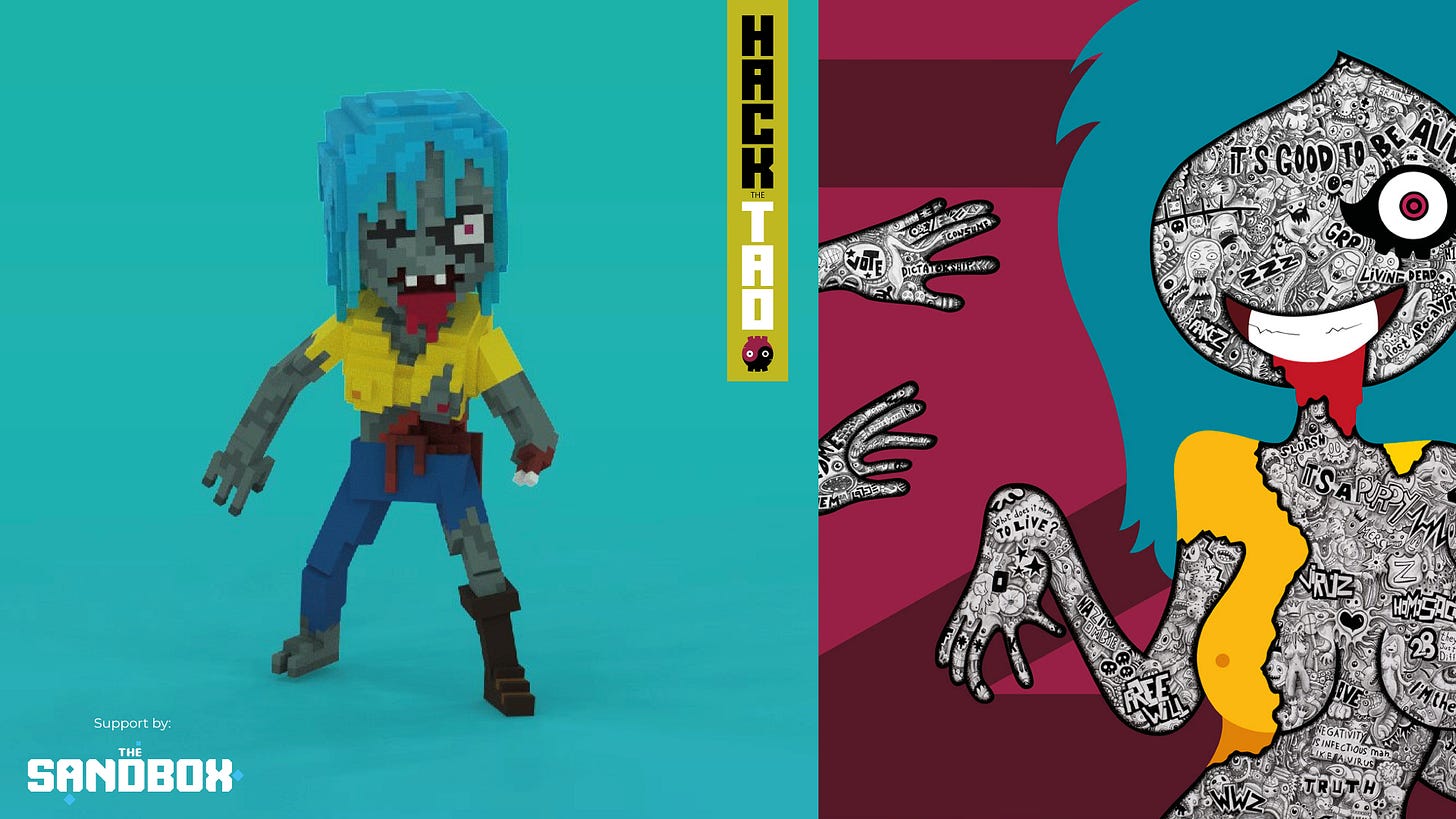 Z-Girl 
"It's good to be alive … !"
Hackatao's art combines the aesthetic of the forms with the symbolism of the ancestral self. The land design is also an homage to Jung's archetypes of the collective unconscious: each level of the game represents a phase in life and is built in a section of a golden spiral.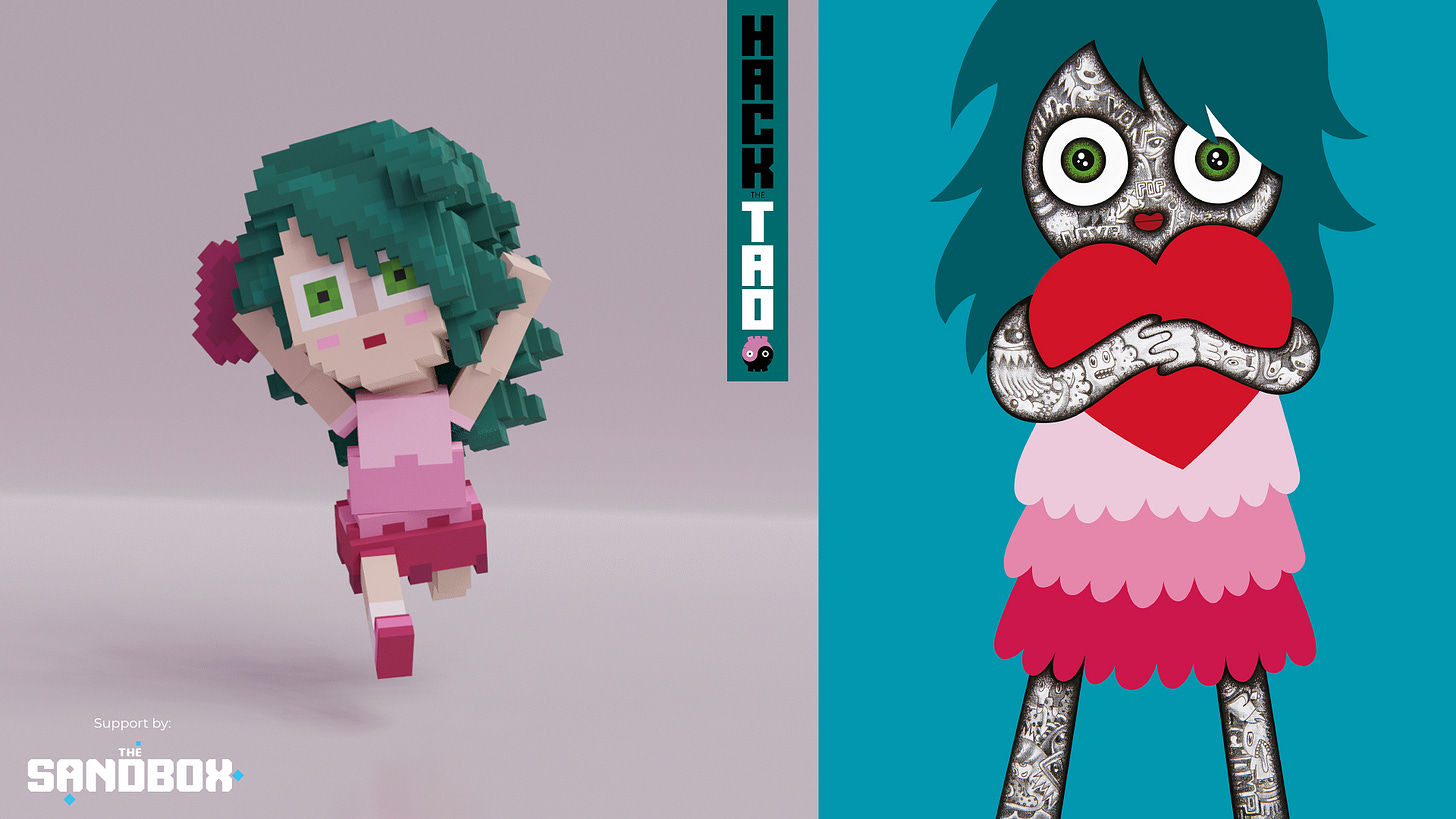 Little Sister
"I'm cute, I'm sweet and I am more powerful than you think. Do you want to play with me?"
Meet some of the most iconic Hackatao's characters from their paintings, sculptures and digital creations as they come to life! Take on an adventure with Lady Hack, listen to the wise words of the Podmorks... but, be aware of the great and powerful Cthulhu!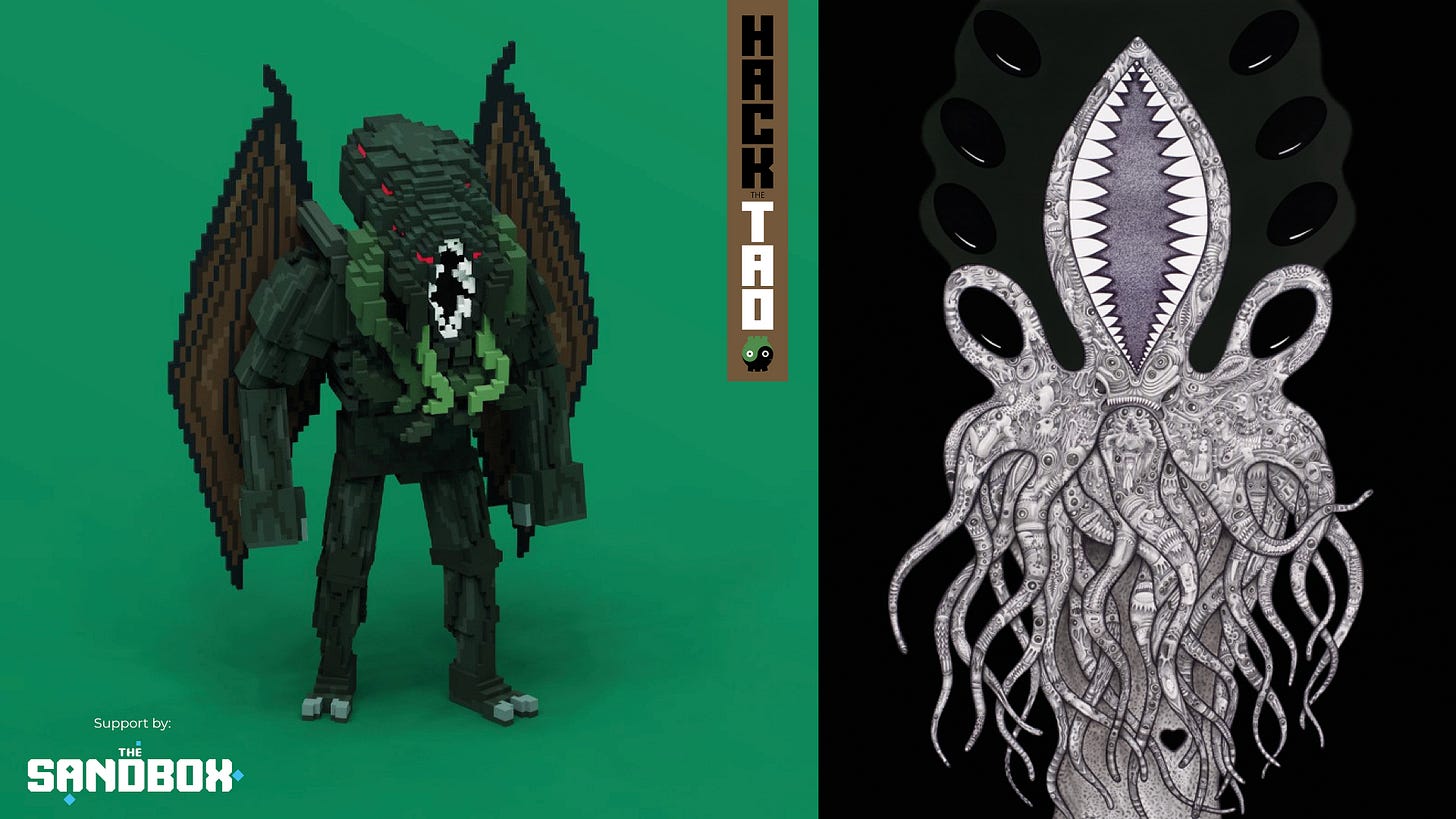 Cthulhu
"I've returned from the abyss to defeat you, Hack! 
When art meets crypto it gives us this epic creation. This game experience perfectly shows how we can mix crypto art and gaming to create an out of this world experience. There is so much that can be done with art aside from creating galleries and displays!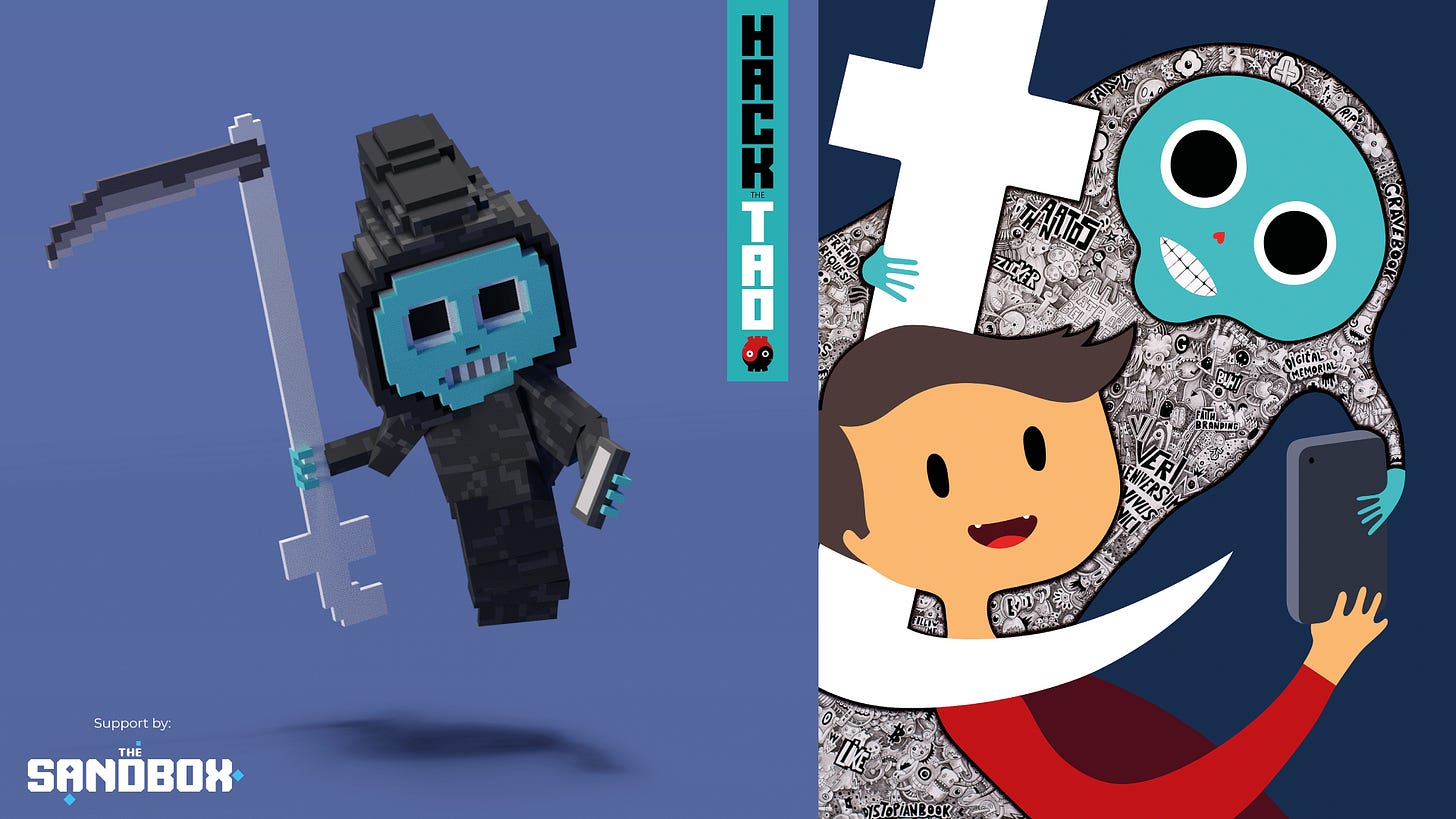 Death F
"Let's take a killer selfie!"
Hack the Tao shows us that gaming can also be a strong expression form through which we can share emotions and good vibes. If a picture is worth a thousand words then what about a video:
Who is your favorite character from this group of misfits? Leave a comment and let us know! I'd personally love to play around with Little Sitter, she seems cute but powerful at the same time, I wouldn't trust that heart too much. Not if I am wielding it that is…
If you want to see more content for this experience, check out their livestream with Koinsquare by clicking the picture below: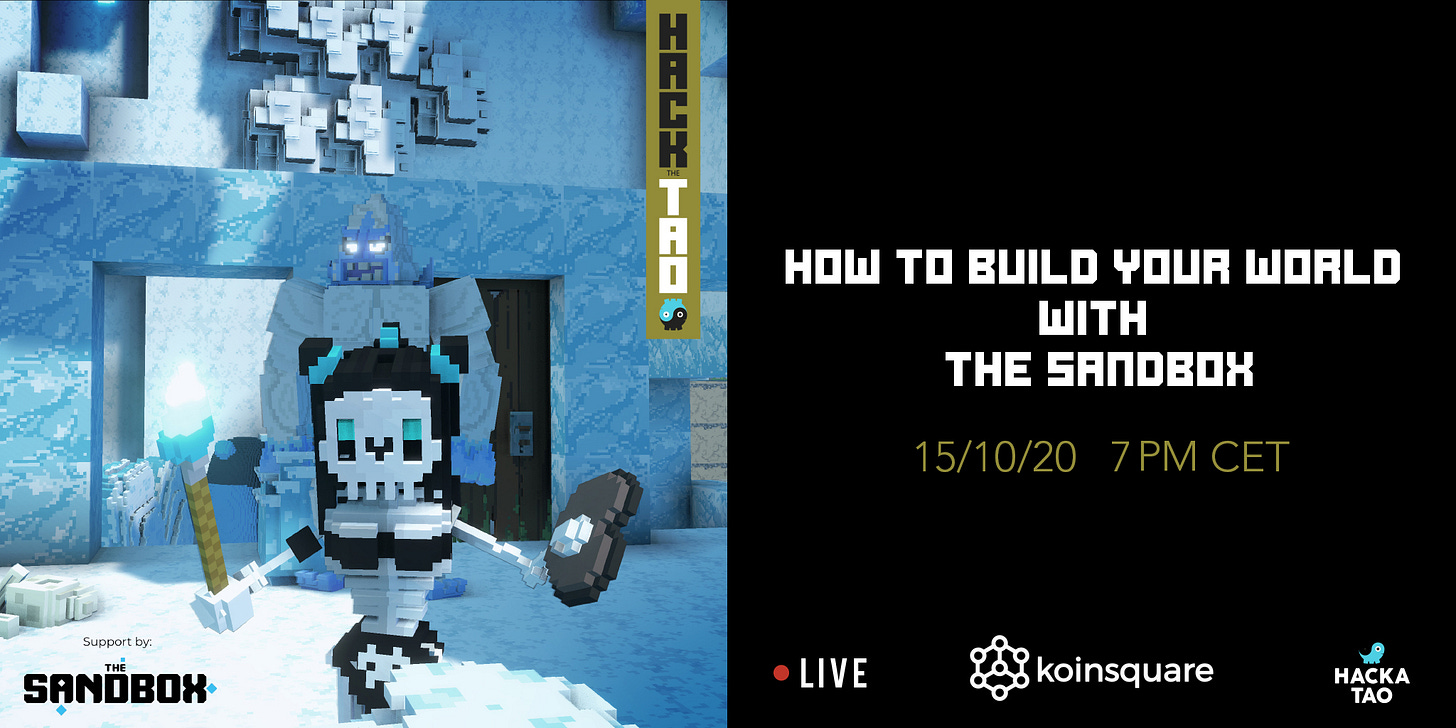 Let's meet again next week for some more epicness made in The Sandbox!
Stay awesome and safe while you wait for my return,
Cheers,
Amy