Game Maker Creations
Eleventh Edition
New week, with fresh content. We are back with our segment with a spectacular creator and an even more mind-blowing game experience. We are going big scale here, so buckle up for:
A Week, Two Creators (and then some)
This week our creators one of which is also one of our ambassadors that you may have discussed with on our discord server: Sythicentt and Sarynade. Let's learn more about their experience shall we?
"Planet Rift is a partnership project being managed and developed by Sythicentt and Sarynade. However, we also have a wonderful group of LAND Contributors who we constantly communicate with to continuously improve the game in every aspect possible. As well as a great production team to create assets for the game!
Born after years of torture from pay to win games and irresponsive devs. We give you Planet Rift."
Planet Rift is the biggest MMORPG experience coming to The Sandbox Metaverse, following an epic colonization journey on space's infamous: Planet Rift.
What Is Planet Rift?
Planet Rift is an MMORPG, lore and economically driven by its players. At the launch of the experience, the map will be barren, near-empty and undeveloped. It is up to players to work together as a civilisation to earn, survive and grow together in order to evolve Planet Rift aesthetically and functionally.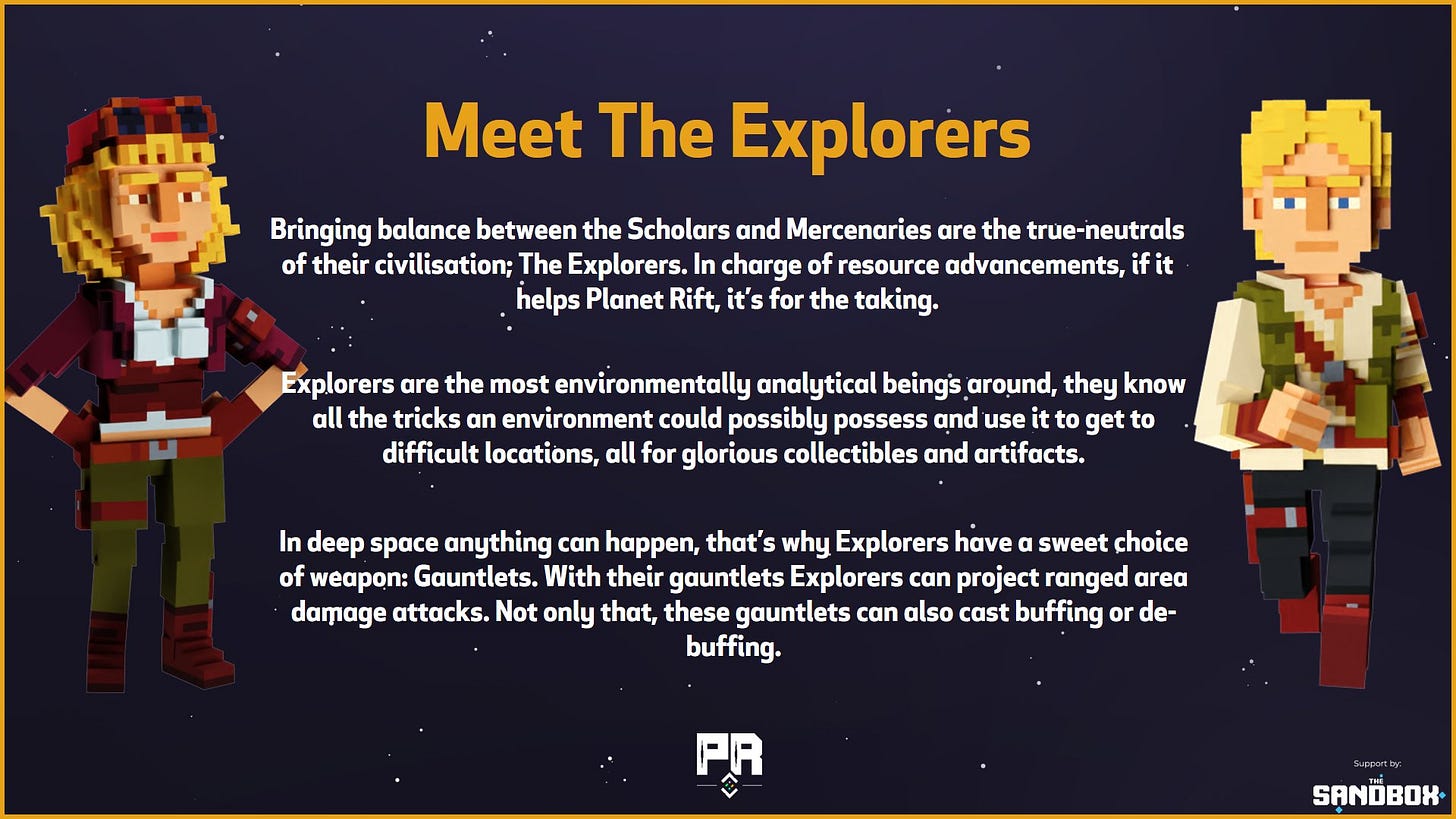 Multiplayer missions from teams of 3 players, to missions requiring teams of 10
Players will start their journeys as one of three: Mercenary, Scholar or Explorer. From there, a vast space filled with the unknown is open for adventure. Cyberpunk, Magical, Prehistoric, Sci-Fi worlds, and much more.
Planet Rift will be built on a 12x12 ESTATE. A big world for a huge game experience! It will boast 488 LAND parcels at launch and will continue to expand through LAND Contributors!
Why should you be excited about Planet Rift?
With Planet Rift, our goal is to empower players as much as possible, build an awesome community and bring home the most fun and diverse gameplay possible. A voxel 'Ready Player One' if you will. No pay to win, fun and competitive gameplay, and AWESOME events.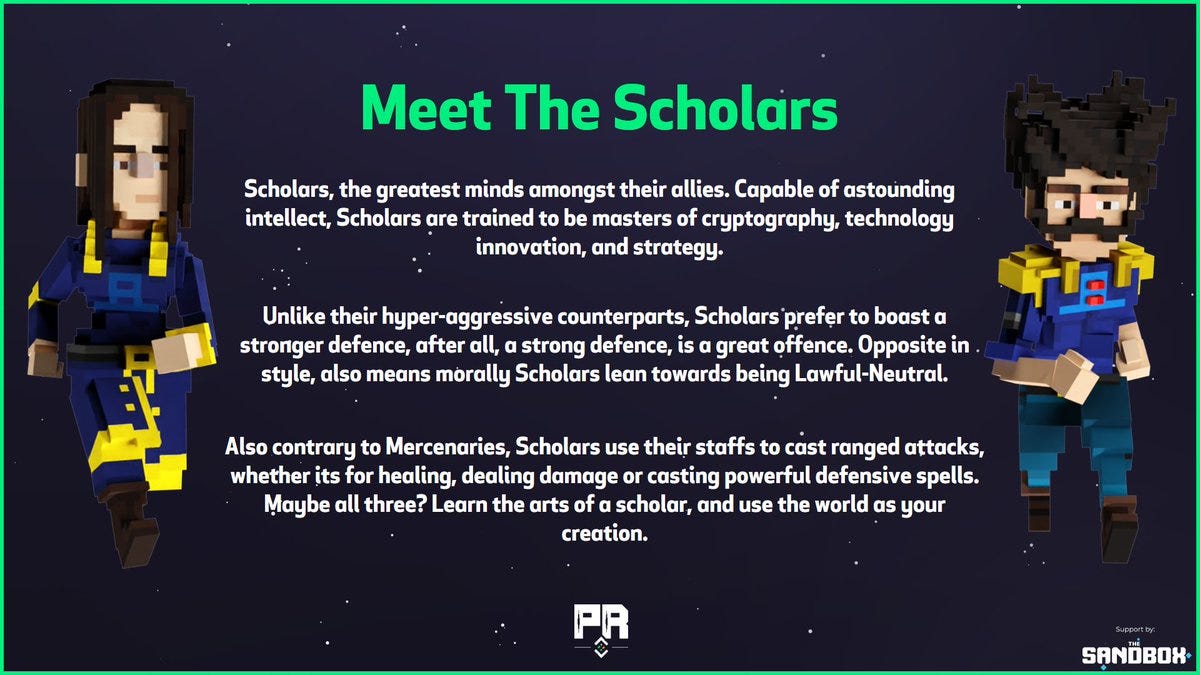 Expect… Planet-threatening scale events. Massive Boss Battles. Cosmetic elevated with NFTs. Multiple themes spanning from Cyberpunk to Magic. PvP. Constantly expanding missions. And of course, an epic game experience. 
Oh… you will have to deal with these pesky beings along the way though: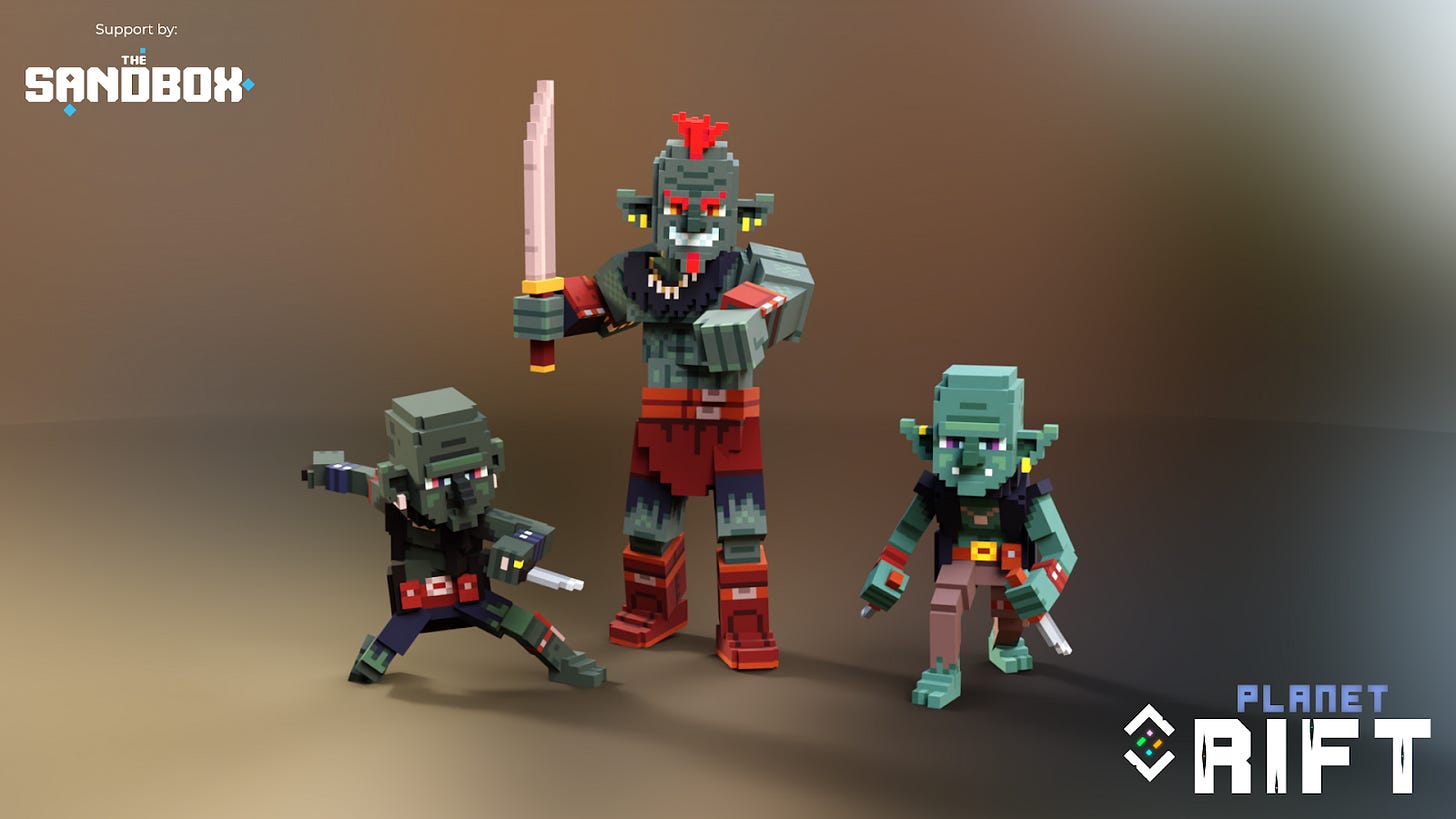 Yep… Goblins.
Don't fall for their small size, they can be quite hard to get rid of.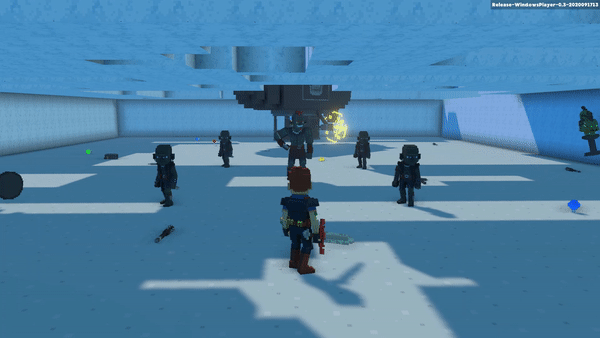 Seems like our hero has reached the danger zone.
It doesn't end there though, meet the Mercenaries' arch-rivals… The Cyber Mercenaries.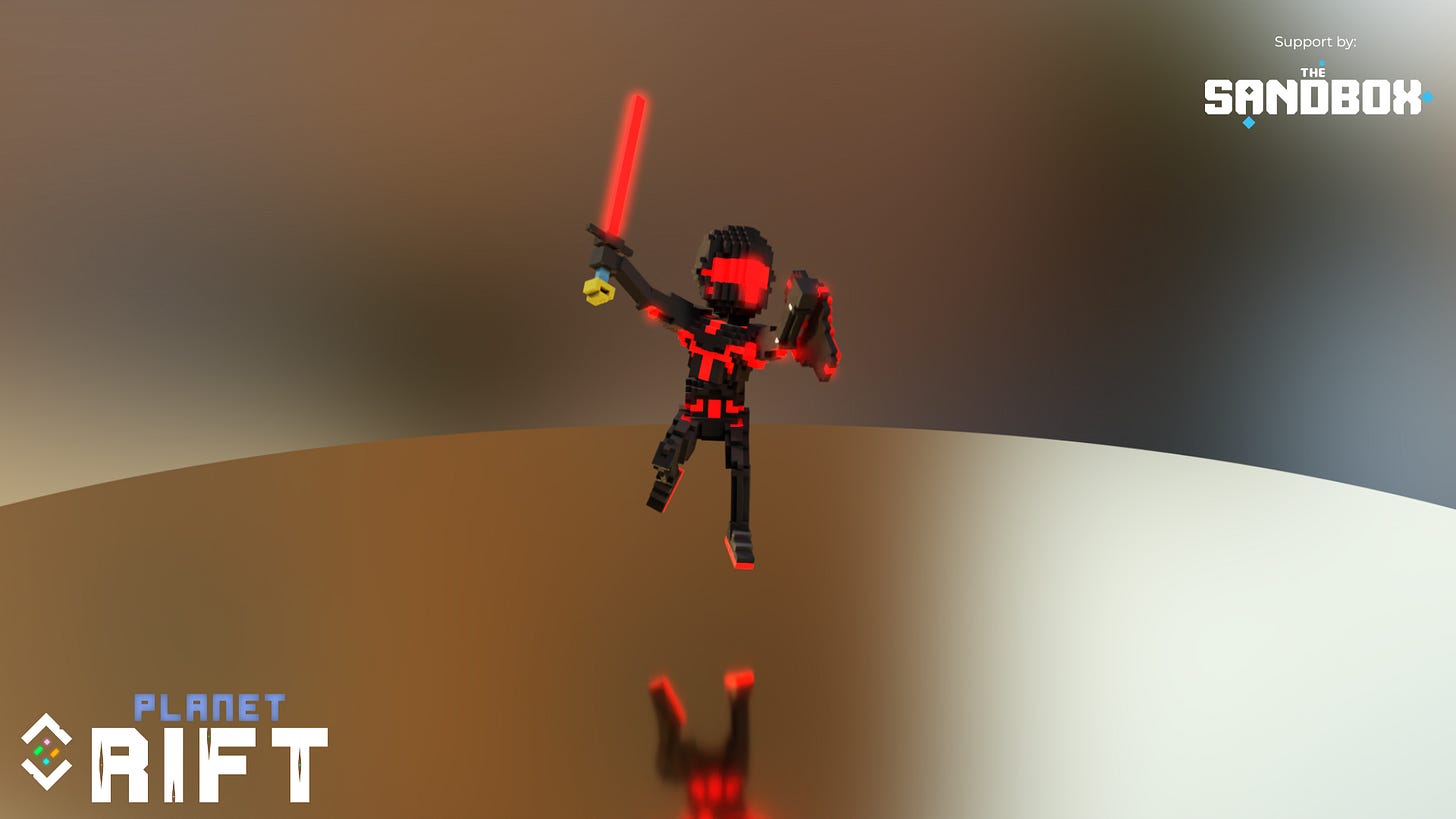 And that folks, is just the tip of the iceberg. Read on for a deeper dive on their experience.
This game experience will be eventful to say the least, and as always I can't wait to get my hands on it! Planet Rift will be split into 4 key districts, each class has its own, a hub will be at the centre and a main city being the fourth district.
Which Class will you join? Which will be the best? (Mine duh! I am already claiming that yes, join me and the Explorers if you want to win - Amy)
If you've made it this far, check this early gameplay clip, quite a way to start a mission off, right?
All in all though, we think Planet Rift is going to be huge, and if you agree, you should do at least one of the following:
Follow us on Twitter (Discord Server SOON!)
Apply to join our LAND Contributor team! All you need is LAND, enthusiasm and some fresh ideas.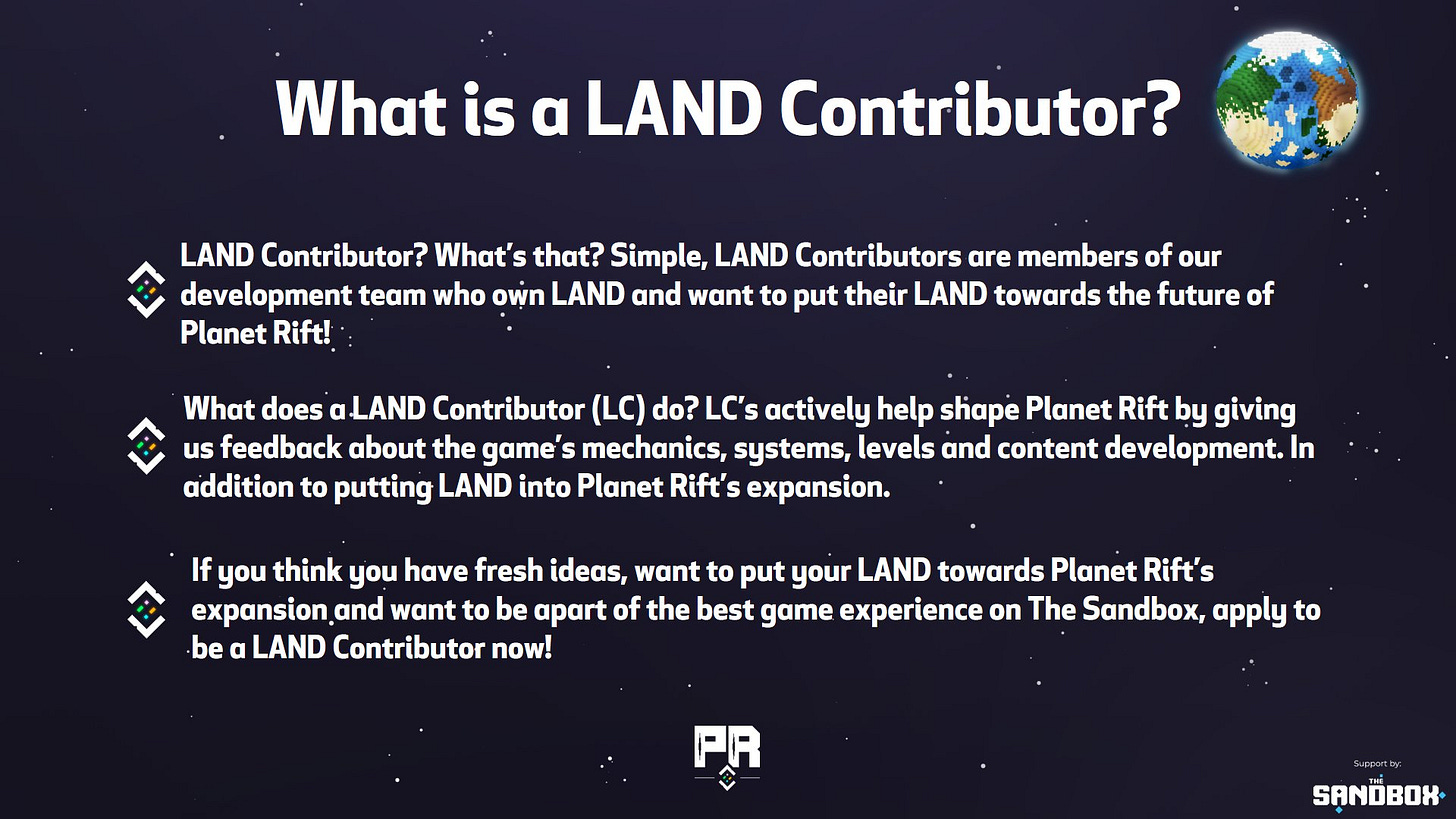 Or, if you like making voxel art, help us bring Planet Rift to life and apply to be a Freelance Artist for us.
That is all for this experience (for now). I'm sure you'll want to know more about it, so if it tickles your pickle feel free to reach out to Sythicent#2104 on discord or @Sythicentt on twitter for any further enquiries.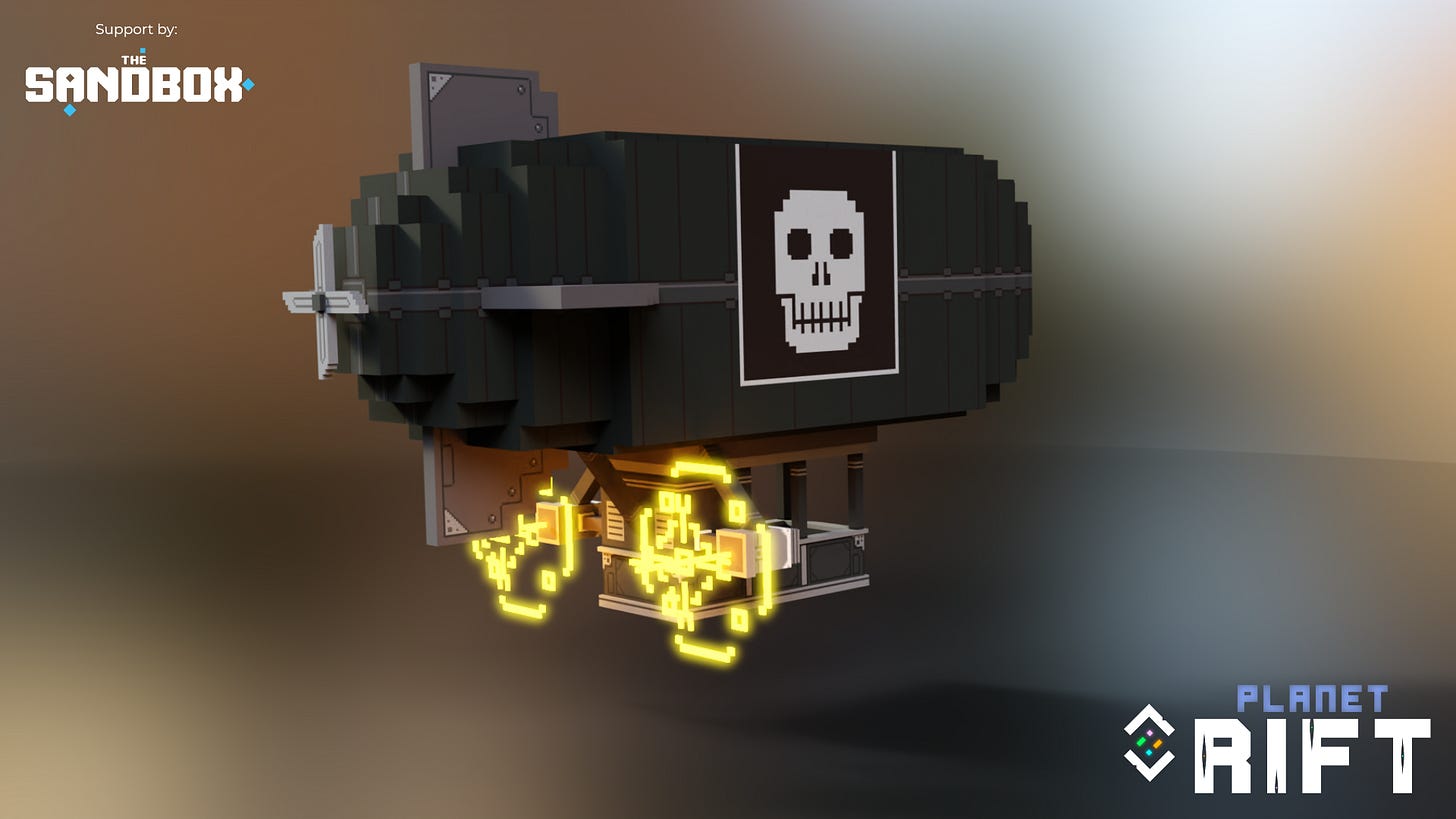 As for me, I'll be back again next week with some more creations!
Stay awesome (and let's create our Class already)
Cheers,
Amy